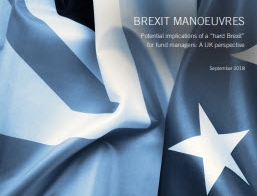 Brexit Manoeuvres: Potential Implications of a "Hard Brexit" for Fund Managers: A UK Perspective
This guide looks at the practical implications of a "hard Brexit" as it relates to alternative investment fund managers, UCITS management companies and investment firms operating under a MiFID license.
Brexit for Fund Managers
We continue to closely monitor developments and are advising fund managers on the potential consequences of Brexit in light of their particular circumstances. We ensure our clients are in the strongest possible position post-Brexit by planning for different outcomes, defining clear priorities and translating this into an approach that best fits their needs.  
How can Dechert help fund managers prepare?
Our global team of experts has experience advising fund managers on the effects of Brexit on their business, for example:
Brexit For Fund Managers Events and Webinars
From a tax perspective, what will Brexit mean for individual firms and what is the HM Treasury's position?
Am I carrying out regulated activities when doing deals in Europe?
 
How will Brexit impact the structuring of trading arrangements?
What should UK firms operating in Europe be thinking about ahead of Brexit?